The holidays can be a tough time of year for many families, and particularly so when there is a Post-Traumatic Stress Disorder (PTSD) diagnosis in the mix. To help support the youngest members of families living with PTSD, we've developed some tips and strategies to help you help them get the most out of the season.
| | |
| --- | --- |
| Manage expectations | Holidays can be a difficult time for families for a variety of reasons. Keep it simple. Try not to over commit your time and energy. Communicate hopes with loved ones and create an opportunity for everyone to have a chance to contribute to the holiday plans. That way, there is a better chance that everyone's expectations will be met. |
Normalize feelings – the good ones and the more difficult ones too
Give kids the space and support they need to share their feelings. They may be angry, disappointed, or scared that a family member isn't feeling particularly well over the holidays. Or, the kids in your life may be feeling happy and excited, but are unsure about how to show it when someone in the family isn't feeling well. Children may feel overwhelmed, frustrated, or have anxiety during the holiday season as well. They may also be picking up and mirroring your feelings. Adopt special words or cues for children and youth to talk about mental health. For example, having a bad day can be expressed as "I'm red today," "I'm having a dragon day," or "I'm feeling Grinchy!" They may need some help in just saying, "I need some space!"
Also, think about helping them with cues or language to express excitement and joy during the season. Children learn from our example about what is important in life. Show positive self-talk, dance to your favourite music, play in the snow, or make your own holiday cards.
And, remember to model (as best you can) the behaviour you want to see in your children. Children and youth watch the adults in their lives and learn a lot from what they see. Showing compassion and love for the person in the family with PTSD and not villainizing or blaming them will benefit the children in the family immensely.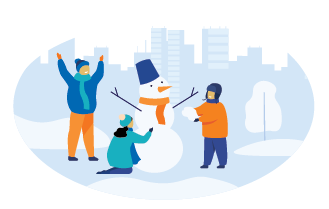 Be patient, understanding, and supportive
Being there for the children and youth in your life, actively listening to their thoughts and concerns, and reassuring them are important to help them navigate their experiences and feelings.

Plan ahead for gatherings
Kids can get overwhelmed with the holidays too, and may need space to decompress or just regroup while you are out. Talk about what that might look like prior to the outing. Think about bringing books, art supplies, action figures, or allowing them time on their phones when they are there.
If going out to a gathering isn't possible, find new ways for children and youth to maintain a connection with their family member experiencing PTSD. While going to a crowded holiday parade or children's party may be too challenging for the affected parent right now, making hot chocolate and watching a parade on TV, or having a family-only tree lighting in the back yard could become its own event. Special memories can be made in all sorts of ways.
Schedule time for the kids to have their own time, and the adults their time as well, during the holidays.
In addition to planning activities with the child or youth's family member with PTSD, if possible, also plan separate activities for them without that family member. This can give the youth space to engage in activities without worrying that their affected family member may get triggered. Consider having an adult without PTSD, such as another family member, a neighbour, or a family friend take the child to an event. Be sure to discuss these plans openly with the affected family member, especially if they are a parent to the child.
Be fair but firm
Parenting and/or supporting children and youth can be tough at the best of times. It is important to recognize that the children and youth in your life may be dealing with the situation and their stress as best they can, which may lead them to act out from time to time. Show them they are loved and supported, while also ensuring that you maintain clear and consistent boundaries about what is acceptable and unacceptable behaviour. Engage with them in meaningful ways as best you can – plan special times with your child or youth to talk about feelings. Let them know that what they feel is important and valid.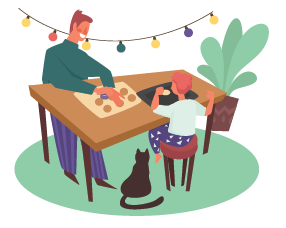 | | |
| --- | --- |
| The holidays can be hectic! | Try to maintain routine that is consistent and predictable. This will help to create a sense of stability for everyone in the home, including yourself! Remember holidays can be celebrated any day – not just by following the calendar! Start a new tradition that everyone in the family helps to create. |
Holiday Connection Box
It can be challenging for children and youth to connect with a family member who is experiencing PTSD. For example, receiving treatment might mean that their family member is away or not around as much. Their symptoms and behaviours might also make them absent in other ways (that is, physically present but not mentally or emotionally available).
Create a "connection box" for when the affected family member is not up to engaging or is away for treatment.
Step 2: Choose items to put in the box together.
Some suggestions include: something that smells like their family member, something to snuggle, photographs of holidays past, something they made together, a favourite seasonal treat, a significant or favourite item of their family member, a memento of an outing or occasion together, or a favourite holiday story book. Have the parent with the PTSD write a short letter or card that is a surprise for the child or youth to find in the box.
Step 3: Decorate the box together. Make it festive!
Creating the box together will go a long way in making it more meaningful for your child or youth. It is important to be mindful of the energy needed to do this activity and to think through a plan in case it becomes overwhelming. If the affected parent is not up to making the box with the child, give the child lots of space and time to make the box on their own, but with your help.
When your child is missing their parent, or is longing for that connection, share the box with them and remind them that they are loved.
Benefits that you might not have considered
PTSD in your family and/or friend circle can bring its own set of challenges, but it also provides some opportunities that other families may not have. For example, it gives you a context in which to teach the children and youth in your life about mental health. It gives children and youth skills in understanding and communicating about their own feelings and in how to maintain their mental wellness. It provides hands-on experiences with a wide range of emotions and teaches empathy, caring, and compassion.
Reflect on this past year, what are some things that have helped your family? What works for one family might not work for another. You know your family best, always remember to include your kids in making age appropriate decisions of what the holidays might look for your family.
Supports and Resources
Here are some additional resources that might help out:
Coping with the Holidays: Coping with the Holidays: Some tips for reducing stress and making your own traditions.
Supporting children in families with PTSD: How to support children – Centre of Excellence on PTSD
Resources for when the going gets particularly tough – When the going gets particularly tough – Centre of Excellence on PTSD
Listing of programs, resources, and supports for families living with PTSD: Family Resources and Programs – Centre of Excellence on PTSD
The Centre of Excellence on Post-Traumatic Stress Disorder at The Royal and Phoenix Australia Centre for Posttraumatic Mental Health have published A Guide to Moral Injury and accompanying microsite. They address one of the most urgent and prevalent needs among health care workers during the COVID-19 pandemic: Moral injury.
Moral injury refers to the impact of challenging experiences that upset a person's value system or moral beliefs. The effects can be enduring, and result in long-lasting emotional and psychological damage.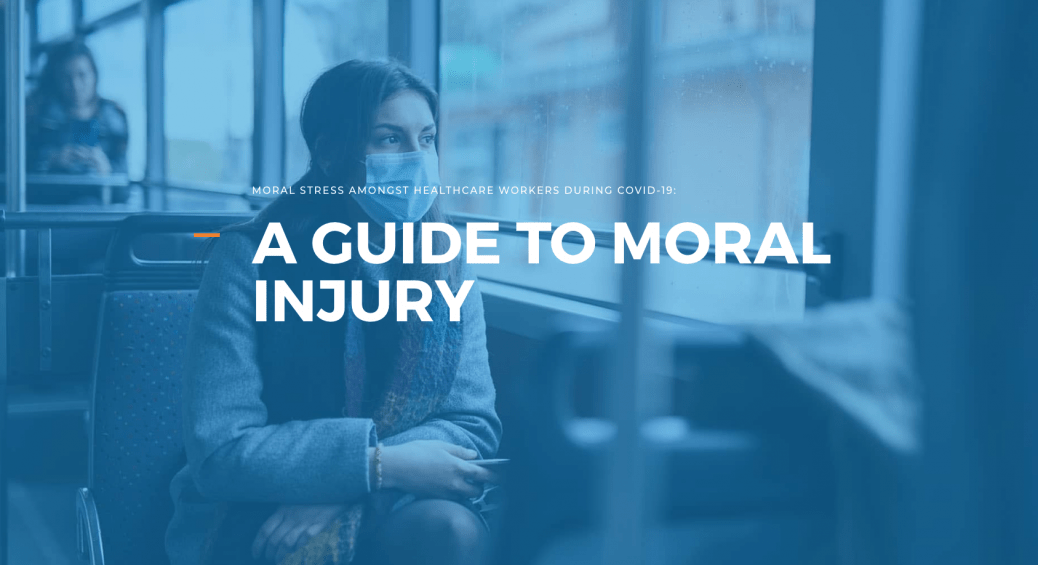 A Guide to Moral Injury serves as a practical resource for health care workers, teams, and organizations. It's about providing  support at the right time for those who are risking their lives on a daily basis.
"It's a call-to-action for workplaces that, if we really wanted to take a 'New Zealand' approach to squash the curve, this is where we could get ahead and show true leadership in Canada to really support our workers so that as few as possible make the journey to PTSD and moral injury," explains Dr. Patrick Smith, CEO of the Centre of Excellence.
Although the term "moral injury" might seem new in the area of health care, it has been studied in a military context, explains Fardous Hosseiny, vice president of Research and Policy at the Centre of Excellence.
"It's been in the literature pretty extensively but now we're finding out that different populations, or anyone who can feel some sort of moral dilemma, will be potentially at risk for moral injury if they're feeling it on a consistent basis," he says. "It's important to note that different populations, different cohorts, are now being affected as well."
Moral injury can impact anyone. Smith shares examples of a long term care worker who can't admit visitors, a social worker who holds the phone while patients share final goodbyes with their family, and a hospital administrator who has to approve redeployment of nurses to centers experiencing outbreaks of COVID-19 knowing what the risks might be.
Moral injury can also occur when an individual feels betrayed in a high stakes situation or witnesses others behaving in ways they feel are morally wrong.
"These are unprecedented, challenging times," says Smith. "The people who trained to serve didn't train for this." Smith, who was a vice-president at a major hospital in Toronto during SARS, recalls passing out N95 masks and checking temperatures as staff walked in the door. "It was nothing like this. Sometimes even recognizing that helps. Getting people the support they need now – while they're going through it – can really help them feel heard, safe, protected, and hopefully cared for."
Hosseiny adds that people of colour who work in health care settings face heightened moral stresses. He's working on a soon-to-be-published supplemental document that will propose specific recommendations.
"COVID-19 pandemic has disproportionately affected marginalized communities. They see themselves in the people who are coming in. They identify with their patients, who may remind them of loved ones…. marginalized and people of colour are struggling on an even higher level," says Hosseiny.
At this time there isn't a universally accepted "scale" to measure someone who is high at risk for moral injury. Hosseiny is undertaking that research with health care workers.
"Throughout the COVID-19 pandemic, health care workers have faced the challenge of continuing to provide the high-quality care to which they are deeply dedicated while adapting to an ever-changing situation and keeping their patients, their loved ones and themselves safe," says Joanne Bezzubetz, CEO and president of The Royal. "This stress can have a profound impact on mental health. The moral injury guide created by the Centre of Excellence for PTSD provides insight gleaned from military and Veterans' experiences to help individuals and organizations support health care worker wellness now in an effort to avoid an onslaught of mental health issues in the future. I encourage health care leaders everywhere to read and act on this important information.​"
Smith says that intervention and support for healthcare staff is critical if we are to avoid the most severe outcomes.
"We know there are so many things that we can be doing to support them now, so you don't have that onslaught of PTSD and moral injury. Frankly, if we just took a watch and wait approach, we'd never be able to afford to treat our way out of this after the fact," he says.
View the Moral Injury Guide and microsite at moralinjuryguide.ca.