Support for Afghan Interpreters

With the Taliban gaining ground across Afghanistan, many individuals who aided Canadian troops until their withdrawal in 2011 as well as those currently working with the Canadian Embassy such as cooks, cleaners, and drivers are at risk of torture and death at the hands of the Taliban. The situation has rapidly deteriorated, especially with the US Forces now pulling out of the country.
The Centre of Excellence on PTSD stands with the Canadian Veteran community calling for timely, reasonable and decisive action which includes the need for rapid processing and barrier-free access to the new program created by the Canadian government for Afghan interpreters, as well as for Embassy staff, and their families to apply to resettle in Canada.
The Centre of Excellence on PTSD recognizes the significant concerns shared among many Canadian Veterans who were supported by the interpreters. Further, there is a distinct risk to Veterans who served in Afghanistan, and were aided by the interpreters, who may be facing a secondary trauma as the Taliban retakes ground and risk escalates.
On Wednesday July 28, the federal government through Immigration, Refugees and Citizenship Canada (IRCC) released application packages to be submitted under Canada's Immigration and Refugee Protection Act.
As highlighted by Canadian Veterans, the Centre of Excellence on PTSD supports the position that while welcome, the program itself must reflect the complexity of the situation for those who may be in hiding and without access to the internet or other connections as they seek safe passage in fleeing the Taliban. We also wish to highlight that, as the documents on the government website are in English and French, language may well prove to be an additional barrier to those seeking asylum. These significant barriers must be addressed to effectively support those at risk.
Canada joined the mission in Afghanistan in 2001 with its combat role ending in 2011 in favour of a shift towards training Afghan soldiers, with the final pull out in 2014. Afghan interpreters are those who worked in the past with Canadian troops to ensure their safety. These individuals, as well as those currently working with the Canadian Embassy such as cooks, cleaners and drivers and their families are seeking safe asylum in Canada as was promised during the years Canadian soldiers were in the country, and most recently through a federal program announced to welcome these people to Canada as refugees.
An independent intermediary organization, the Centre of Excellence on PTSD is hosted within The Royal Ottawa Health Care Group and funded by Veterans Affairs Canada. Views of the Centre are independent of either organization.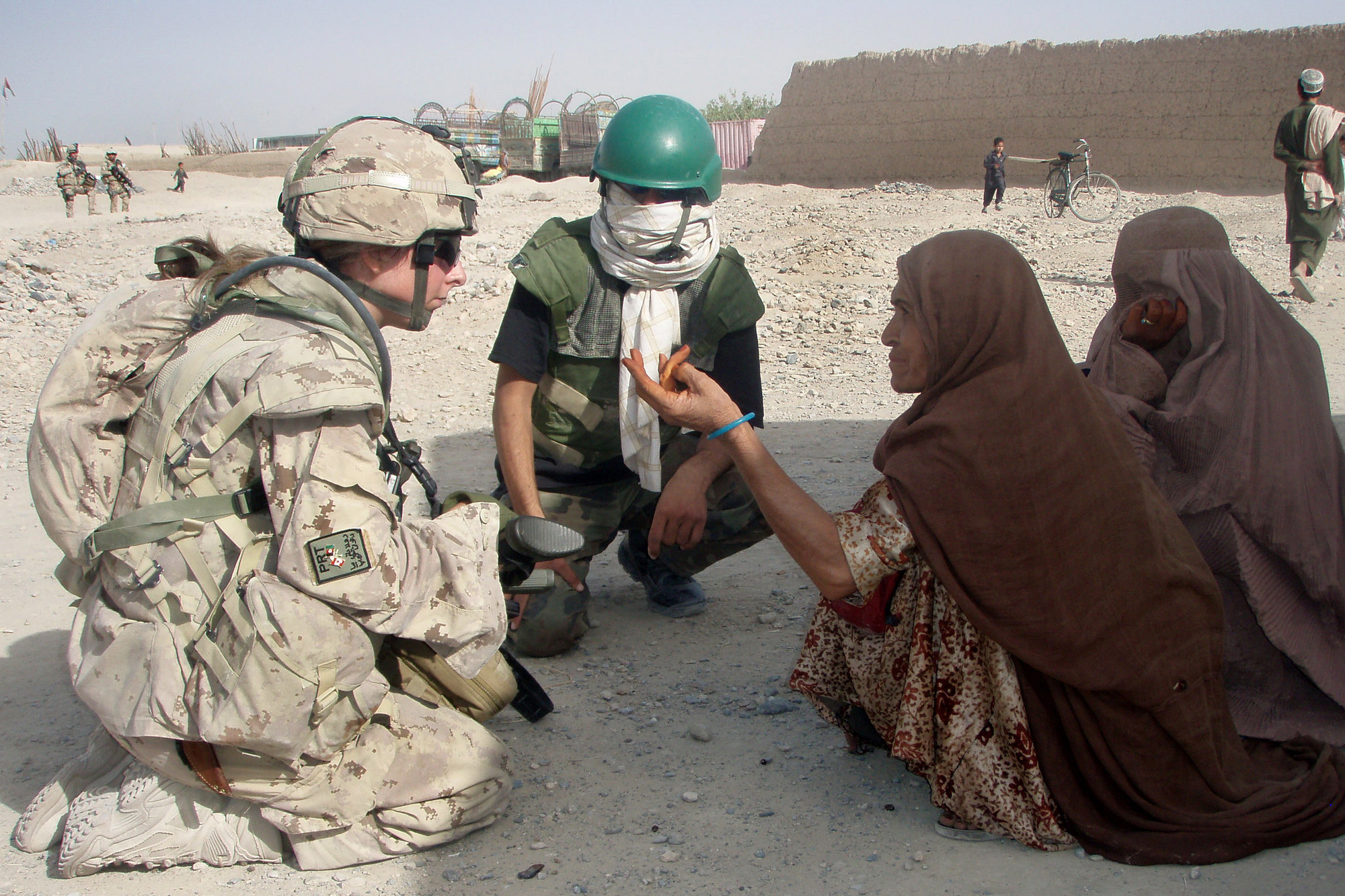 Photo:
Master Corporal Anouk Beauvais (left) and an interpreter (centre) from the Kandahar Provincial Reconstruction Team (KPRT) speaking with an Afghan woman from the village of Panjwayi in Afghanistan (left).
Photo by: Cpl Simon Duchesne