Ottawa, ON – November 10, 2023 – Each Remembrance Day, we take the time to honour the service and sacrifices of those who have dedicated their lives to military service. We remember the more than 100,000 soldiers who lost their lives during various conflicts.
At home and overseas, in times of war and peace, Veterans of all ages and backgrounds are the ones who bravely answered the call to give back to Canada. Veterans' service is as varied and diverse as Veterans themselves. There are over 450,000 Veterans of all ages with diverse backgrounds and experiences, each with a different story to tell. Some may have served decades ago in the Second World War or the Korean War. Others in the Gulf War or in Somalia, Rwanda or the Balkans in the 1990s, in Afghanistan from 2001 to 2014, or more recently in Iraq or Latvia. Veterans have also served on home soil, providing support during natural disasters such as devastating wildfires or floods, as well as in long-term care homes to bring relief to health care workers during the global pandemic. All who have served and since left the Canadian Armed Forces are Veterans, and we recognize and thank them all for their service.
"For some, Remembrance Day is a reminder of personal experience. For others, it is a reminder of the contributions of others to our way of life and freedoms. And with each passing year, it is always a sobering reminder to instruct our youth about the cost of war and the camaraderie of survivors."
– Tabitha Beynen, Lived Expertise Lead, Veterans, Atlas Institute for Veterans and Families
Our thoughts are also with the countless soldiers who returned home, their lives forever changed by service, with physical and invisible wounds left by things that most of us could never imagine. We also think of their Families who support them through seemingly endless periods of training, exercises and deployment, and whose sacrifices often go without the recognition they deserve.
"On the 11th of November, I want people to take that time – two minutes… it's not that much. But those two minutes, if you actually spent them reflecting on why we have all these good things around us, then you're doing it right."
– Brian McKenna, National Strategic Advisor, Veterans, Atlas Institute for Veterans and Families
Many Canadians ask themselves how they can best honour Veterans and their Families on Remembrance Day and every day of the year. First, on Remembrance Day, we can all take two minutes to pause and reflect on the sacrifices of those who have given so much of themselves for our country. Second, we can listen to their stories and share their experiences. Finally, we can all advocate for improved care and supports for Veterans and their Families.
We will never forget what they have given us, as individuals and as a country.
"For me it helps when people acknowledge that life has been a little bit more difficult at times for us."
– Polliann Maher, Lived Expertise Lead, Families, Atlas Institute for Veterans and Families
OTTAWA, ON — July 26, 2023 — The Atlas Institute for Veterans and Families welcomes the appointment of Ginette Petitpas-Taylor to the role of Minister of Veterans Affairs and Associate Minister of National Defence, as part of the new federal cabinet.
"We would like to congratulate Minister Petitpas-Taylor on her appointment," Fardous Hosseiny, President and CEO of the Atlas Institute said. "Minister Petitpas-Taylor brings a wealth of relevant experience to this portfolio, both from her time in government as the Minister of Health and her role on the NATO Parliamentary Association, as well as her pre-political experiences as a civilian with the Royal Canadian Mounted Police (RCMP), and within the mental health sector."
"We are looking forward to this opportunity to build on the supportive relationship we have established with Veterans Affairs Canada (VAC) and the ministry in advancing the work of supporting our Canadian Armed Forces (CAF) and RCMP Veterans and their Families," Hosseiny added.
Recognizing the contributions of outgoing Minister Lawrence MacAulay, Hosseiny thanked Minister MacAulay and his team for their support of the Atlas Institute through its formative years. "As a relatively new organization, the support from Minister MacAulay and his team contributed to our ability to quickly mobilize, particularly during a global pandemic, and establish Atlas as a highly connected national organization, leading innovative research and producing and curating trusted information and resources regarding mental health and well-being for Veterans, Families and mental health service providers. We wish him and the team well as they transition to a new portfolio."
Brian McKenna, National Strategic Advisor for Veterans, and Laryssa Lamrock, National Strategic Advisor for Veteran Families, who both sit on the Minister's advisory groups, echoed their thanks to Minister MacAulay, while welcoming the opportunity with the new Minister to continue to inform and shape the landscape of supports for those who have served and for their loved ones.
"We have seen an increased focus on the needs of Veterans and Families in Canada and opportunities to engage in collaborative solutions by working in tandem with partners at every level," McKenna said. "There is a solid foundation that has been built in the efforts to improve the landscape for services in support of those who have served, and we look forward to furthering this work. So we welcome Minister Petitpas-Taylor and the continued focus on the community."
Lamrock identified that Veteran Families have distinct needs and experiences and so have been an area of interest and focus in their own right. As such, she too looks forward to collaborating to build on the work already in progress to raise awareness of Veteran Families' needs and identify ways to benefit the Family as a whole through collaboration and a common vision.
Hosseiny added: "Given Minister Petitpas-Taylor's well-known passion for community, we welcome her leadership to as we work together to support the well-being of the more than 600,000 Canadians who have served their country tirelessly and the Families who have served alongside them."
For more information, contact: media-atlas@theroyal.ca
Each Remembrance Day, we reflect upon and honour the service and sacrifices of those who have defended and supported our country through military service. On the battlefield, as peacekeepers, and as rescuers in domestic operations, from the Boer War to Hurricane Fiona, members of the Canadian Armed Forces, the Royal Canadian Mounted Police and allied police forces have bravely answered the call.
To this day we have lost more than 100,000 soldiers to these various conflicts. Yet, for many who have returned,  the impacts of service are something they continue to live with. Whether from the loss of irreplaceable time with family, to witnessing violence and death, to invisible injuries to the mind, body and spirit, service requires a level of courage that is for the most part unimaginable for many of us.
"Every soldier who has seen action knows that it requires the highest type of stamina and bravery for troops to lie in a trench and take a heavy shelling without being demoralized and panic stricken."

Captain Bellenden S. Hutcheson,
76th Royal Field Brigade,
First World War
The consequences of service are often life altering. Whether it was a Cameron Highlander returning from the Second World War or a member of Princess Patricia's Canadian Light Infantry coming back from Kandahar 60 years later, the feelings and reactions are much alike.
"The world, as I had known it, was no longer there. Everything around me had changed. I couldn't understand it, or adjust to it. But I had to do something with
my life . . . "


E. Christensen,
Queen's Own Cameron Highlanders/Winnipeg Grenadiers,
Second World War
On this Remembrance Day, we ask ourselves how best to honour Veterans and their Families today and every day of the year. The answer is quite simple: listen to their stories, learn from their experiences, advocate for improved care and supports, and never forget what each Veteran and their Family have given to us, as individuals and as a country.
View our new video in honour of Veterans' Week 2022:
First person statements from Veterans sourced from Veterans Affairs Canada
Image credit for video:
Canadian Armed Forces members deployed on Operation LENTUS clear debris caused by Hurricane Fiona, in Burnt Islands, Newfoundland, September 30, 2022. Photo by: Corporal Braden Trudeau, Canadian Armed Forces Imagery Technician. This reproduction is a copy of an official Work that is published by DND/CAF and has not been produced in affiliation with, or the endorsement of, DND/CAF.
Recognizing the wide-ranging effects military sexual misconduct (MSM) has had on current and former Canadian Armed Forces (CAF) members, CAF Veterans, and their Families, the Atlas Institute for Veterans and Families (the Atlas Institute) welcomes the public release by Minister of National Defence, Anita Anand, of the report by former Supreme Court Justice Louise Arbour, and the government's commitment to respond to the recommendations on how best to address this crisis.
The recommendations, in intent, honour the journey of those who have experienced military sexual trauma (MST), setting the stage for cultural and systemic change.
As noted by Minister Anand, as well as Justice Louise Arbour, the inclusion of external expertise consultation is imperative to the successful implementation of the recommendations put forward, especially as action in response to previous reports and recommendations has not sufficiently materialized.
The Atlas Institute recognizes the many roles different stakeholders can have in building a coordinated response to the recommendations and is committed to supporting the collaborative efforts of all partners in moving the 17 recommendations prioritized for this year forward in a thoughtful, strategic way, as guided by those impacted. Importantly, the voices of people impacted by MST must continue to be included throughout the process to guide the necessary changes and ensure they are as meaningful in execution as in intent.
In addition to participating, where possible and appropriate, in the roll out of the recommendations, the Atlas Institute is committed to continue improving the well-being of those impacted by MSM through its ongoing operations and work already initiated. This includes sharing information about peer support programs and services, identifying the needs of service providers and developing educational resources to support their interactions with Veterans and Veteran Families impacted by MSM, developing informational resources for Veterans and Veteran Families, ongoing participation in the Canadian Military Sexual Trauma Community of Practice, and ensuring that those with lived experience of MST are not only heard but that their wisdom informs and guides our work.
Further, it is important to be aware of the myriad of emotions that those impacted by MST may be experiencing after a landmark event like this, where anticipated actions are being discussed. The Atlas Institute has an online hub with easily accessible information, including a fact sheet about MST which provides links to available resources. This can be found at https://atlasveterans.ca/knowledge-hub/military-sexual-trauma-mst/.
We remain hopeful that, through prompt action on the recommendations that have emerged from the report, a coordinated system-wide approach will create the necessary environment for lasting change.  And, we applaud the courage of the individuals who have publicly shared their experiences, no matter how difficult it was to do so, in the hope their stories could influence the path of others.
For further information, contact:
media-atlas@theroyal.ca
We recognize the commitment healthcare providers have to delivering the best possible support to clients. Wounded Warriors Canada and the Atlas Institute for Veterans and Families are excited to announce Introduction to Trauma-Exposed Professionals training, available now on Wounded Warriors Canada's Warrior Health platform.
We are here to assist your efforts to deliver evidence-based practices aimed at improving the mental health of Canadian Veterans and Veteran Families, by offering access to the Introduction to Trauma-Exposed Professionals course at no cost to 500 Canadian service providers who care for Veterans and Veteran Families.
This course is for healthcare providers who work with current or former members of the Canadian Armed Forces (CAF), the Royal Canadian Mounted Police (RCMP), public safety personnel (PSP), and their Families. It was created for healthcare providers who want to increase their knowledge and understanding of the unique experiences of those who work in professions where exposure to trauma may be a regular feature.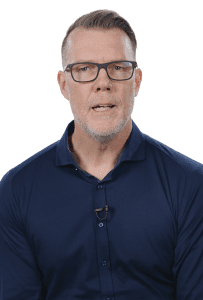 The course was developed by Wounded Warriors Canada's National Clinical Advisor, Dr. Tim Black, R. Psych, with support from the Atlas Institute for Veterans and Families. It provides culturally-specific clinical approaches to support the mental health needs of those who serve (or have served) Canada at home and abroad. As well, the course builds awareness of the divide that exists between trauma-exposed professionals and the public, who may not understand the potential impacts of their service on their mental health and well-being.
Learn more about this virtual, self-paced training developed in partnership with Wounded Warriors Canada, and confirm your eligibility: Introduction to Trauma-Exposed Professionals.
Fardous Hosseiny, President and CEO of the CoE – PTSD, said that any time there is an escalation in conflict, particularly where there is global interest and a heightened media presence, it can be potentially triggering for those who have served and it is important they are aware of the supports and resources that are available.
Brian McKenna, retired Warrant Officer and National Strategic Advisor – Veterans for the CoE – PTSD added that at a time like this, it is important for Canadians to understand the complexities of the situation and the impact it may have on anyone who has previously served, as well as on their Families. "Those who have served in similar situations might be watching events unfold, including images of conflict, and we know that this can not only be distressing but also re-traumatizing," he said.
"While the war is hard to watch, that is a natural universal response," McKenna added. "But it is the unspeakable amount of civilian suffering that Veterans specifically will remember; the winter conflict that produces starving and frozen citizens, the line up of wounded kids, the missile strikes on civilian apartments, the food shortages for the elderly. These are the hardest to watch because they go against the ethos of soldiering and we've directly seen these tactics in other places we've been, such as the former Yugoslavia. For many of us, Kyiv has us feeling like we're re-living our mission in Sarajevo." He added it is important for anyone experiencing distress to access supports as soon as they become aware the situation might be challenging to their mental well-being.
The impact of the current situation is also being felt by Family members of Veterans, according to Laryssa Lamrock, National Strategic Advisor – Family for the CoE – PTSD. "We know that Families of Veterans who are on the home front are the ones helping them deal with the mix of emotions they are experiencing. At the same time, events may bring a variety of feelings up for Family members themselves. It may remind them of times of apprehension, anticipation, worry, pride, or significant life changes. For some, military service runs through generations. The child of a Veteran who deployed during previous times of conflict may now find themselves, as a parent, imagining a possibility of their grown children's role in uniform in the future. At the CoE, we want Family members to know they are also seen and heard and that there are resources available to address their unique circumstances and needs."
Hosseiny added that those providing mental health services to Veterans and their Families should also anticipate and be prepared to provide trauma-informed support. Providers play an important role in supporting Veterans and their Families and are encouraged to be mindful as events unfold to check in with their clients as part of their care provision.
For anyone seeking support, the CoE – PTSD recommends contacting the Veterans Affairs Canada (VAC) Assistance Service, which is available 24 hours a day, 365 days a year. Veterans, Families, and caregivers can call to speak with a mental health professional, free of charge, at 1-800-268-7708 (TDD/TTY: 1-800-567-5803).
A listing of additional supportive resources can be found at https://atlasveterans.ca/directory-of-services/
The Centre of Excellence on PTSD is an independent intermediary organization funded through Veterans Affairs Canada (VAC) to conduct research and provide CAF and RCMP Veterans, their Families, and mental health service providers with access to up-to-date evidence-based information and resources to improve mental health and well-being outcomes. The CoE –PTSD is guided by four interrelated, community-based Reference Groups comprised of Veterans, Veteran Family members, researchers and service providers.
February and Forever: Celebrating Black History Today and Every Day
While Black History Month occurs each February, it is important to acknowledge and support Black Canadian service members and Veterans every day of the year.
Black Canadians have committed themselves to serving our country militarily, at home and abroad, since the 19th century. From the Victoria Pioneer Rifle Corp in the 1850s to Black service personnel fighting bravely in Afghanistan, and caring for the elderly during a pandemic, there is a long history of heroism and selflessness to share, to reflect upon, and to celebrate.
Throughout the month of February, we will present profiles of Black Canadian Veterans who were active in many conflicts, some more recent and some from many years ago. We will share stories of valour and strength, compassion and care. These are the stories of our brothers and sisters in arms who fought along side their comrades with a common purpose and goal – to ensure the success of their mission, to protect the innocent, and to represent Canada with honour.
We encourage you to follow our Black History Month posts on our social channels – Facebook, Twitter, and LinkedIn – and to return to this page throughout the month for new profiles of brave Black Canadian Veterans.
For additional resources celebrating the achievements of Black Canadians in the military, please visit: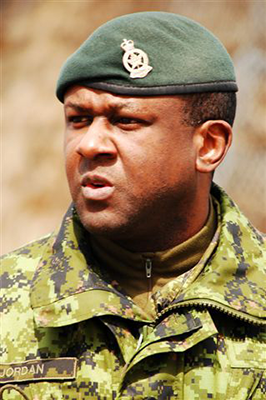 Having served in the CAF from 1987 to 2012, Warrant Officer (Ret'd) Cyril Jordan's 23 year-long career is an inspiration to many. Jordan started his career in the Royal Montreal Regiment (RMR) in 1987. In his tenure at the RMR, Jordan found community and family. He speaks highly of the RMR for being a diverse unit that embraced individual and team strength.
In 1990, Jordan embarked on his first tour in Cyprus. Being the only Black person in his company, Jordan quickly learned the challenges he would have to overcome to succeed within the ranks.
"If there is no struggle, there is no progress."
– Frederick Douglass
Without struggle, there is no perseverance. Jordan often had to remind himself of that: That things won't always come easy, but they are worth pushing through. And it's a good thing Jordan did push through. Things started to change throughout this tour. As team members moved to new positions and postings, things improved.
After his first tour ended later in 1991, Jordan's career progressed as he took on his second tour in Yugoslavia. Throughout these tours and his career, Jordan met lifelong friends and began climbing the ranks progressing to meet his retiring position of Warrant Officer.
The road was not always easy. Although Jordan felt welcomed and accepted in his home unit with the RMR, he still faced discrimination and setbacks throughout his tours. But as he tells his kids, "The worst thing you can do is let someone knock you down. When you get knocked down, you have to get back up." And that is what he did.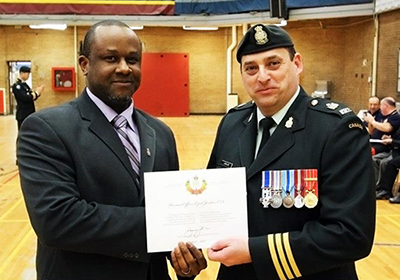 Jordan's extensive career is represented by the United Nations Peacekeeping Force in Cyprus (UNFICYP) Medal, and the UN Protection Force in the former Yugoslavia (UNPROFOR) Medal. Also, he is the recipient of the Canadian Peacekeeping Service Medal (CPSM), the Queen's Diamond Jubilee Medal (QDJM) and the Canadian Forces Decoration (CD) with clasp.
"I'm proud of both the tours that I did. I'm proud that I still persevered through all the issues that I had to deal with in regards to being a visible minority. I'm proud that I didn't let anything stop me from moving forward. And if I had one piece of advice to give, it would be, take the step forward and see what happens. You never know where you'll end up." – Warrant Officer (Ret'd), Cyril Jordan.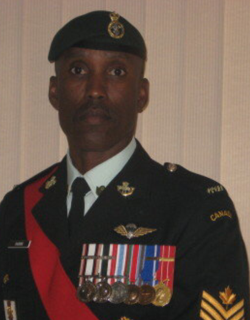 Sgt (Ret'd) Arnold Parris can express his experience joining the Canadian Armed Forces (CAF) in a few words, "It was the best decision I ever made!"
As a young man, Parris was always interested in joining the military. His inspiration to join the Army never wavered despite being warned off by some stating that it was not a good environment for a young Black man. However, after being urged on by a Veteran from the Vietnam War, Parris joined the Army reserves in 1978 and subsequently full-time service in 1983.
Parris' experience as a Black member of the CAF was the opposite of what some people had told him. Within the ranks, he found community, comradeship, a sense of purpose and, most importantly, family. He wasn't oblivious to the fact that racism was present, but he wasn't going to allow the actions of a few tarnish his new found life as a Canadian soldier.
After basic and trades training as an infantryman, Parris joined the Second Battalion Princess Patricia's Canadian Light Infantry (2PPCLI). He was immediately impacted by how soldiers performed together under duress, especially in the field. His first overseas duty was in CFB Baden-Sollingen, in what was then known as West Germany.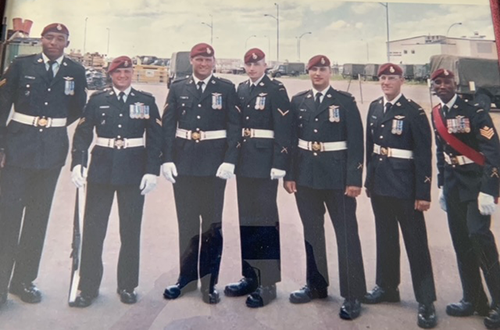 Parris excelled in the physical aspect of soldiering, and when given the opportunity to serve in the Canadian Airborne Regiment, he took it. He served two tours, 1988 until 1992 and then again in 1994. Being a paratrooper was the highlight of his career – Germany was good, but this was better.
Amongst his medals for the various overseas tours, The Special Service Medal with NATO Bar, the United Nations Protection Force in the former Yugoslavia (UNPROFOR), NATO Medal (BOSNIA) and the Afghanistan Campaign Star. He is the recipient of the Canadian Peacekeeping Service Medal (CPSM), the Canadian Forces Decoration (CD) with two clasps, the Canadian Forces Sacrifice Medal. He has received two Commander-in Chief Unit Commendations, 2 PPCLI Battle Group for their actions in Croatia and 3 PPCLI Battle Group for actions in Afghanistan.
Parris reflects fondly on his time in the CAF. One of his postings was as a recruiter, and his role was to create awareness of the different employment opportunities within the CAF in visible minority communities, specifically young Black men and women. He would say that "It's the best kept secret," and echoing the sentiment of the Veteran who urged him on, "Join now! And when you do, regardless of what happens – don't quit!" Great advice from such a distinguished soldier.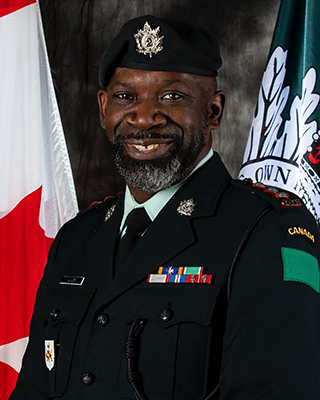 Captain Kevin Junor's 34-year plus career with the Canadian Armed Forces (CAF) has made an impact to last decades. In 1980, Kevin enrolled as a private soldier with the Toronto Scottish Regiment. He climbed through the ranks to become a Chief Warrant Officer (CWO) in 1998 and was appointed the Regimental Sergeant Major (RSM). This was a significant appointment, as the RSM is considered the most tenured and experienced soldier within a unit that represents all of the NCMs and is the primary advisor to the Commanding Officer.
On his operational tour to Sierra Leone, Kevin served as a Senior Military Advisor. He was assigned to help restore and advise the Republic of Sierra Leone Armed Forces (SLAF) after its decade-long civil war. As a Black man on this tour, Kevin felt he could make an impact by going above and beyond his regular duties. So he did.
Kevin noticed a gap in the professional development training for the SLAF RSM cadre. With that need for improvement in mind, Kevin developed a training program. His program concentrated on leadership, change management, and team building. He conducted the course in 2007 and it was conducted as late as 2011. This program created the rubric for the future. Kevin looks back on this experience as something he is most proud of. Giving others the opportunity to be given the appropriate respect for their position for the first time in their military career, that's what it was all about.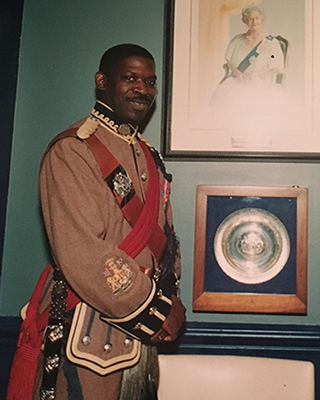 After being the RSM, Kevin became a diversity advisor within the CAF, in which he was the National Military Co-Chair of the Defence Visible Minority Advisory Group. In 2020 Kevin began his operational tour in Jordan as a Project Officer.
During this tour, he was responsible for coordinating a gender integration seminar. Always the innovator, Kevin took this opportunity to do something different. He proposed a new model to restructure the seminar by concentrating on the experience of the Jordanian Armed Forces (JAF). This approach was new and was a big shift from what was done in the past. For the first time, the seminar was run entirely in Arabic and led by the JAF, with the CAF as support. Similar to his experience in Sierra Leone, this format became the new model going forward.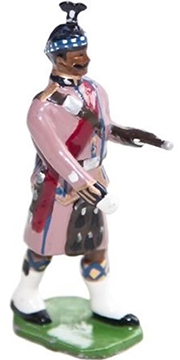 Kevin has earned countless awards and honours throughout his career, including the Order of Military Merit and the Harry Jerome Professional Excellence Award. He even has a miniature toy soldier modelled after him and was also one of the few Canadians invited to the Queen Mother's 90th birthday, 100th birthday, and funeral.
Kevin enjoyed his time with the CAF so much that he took his commission to Captain and continues to serve to this day. He speaks of the CAF as a great place that will challenge you, stretch you, and a place where you will learn more than you ever thought you could. If he had one piece of advice to give, he would say, "Don't let anybody define who you are. You have the ability to define yourself and don't give that power to anybody."
Fardous Hosseiny, President and CEO of the CoE – PTSD, said that while many Veterans successfully transition to civilian life, it cannot be ignored that Veterans are at a higher risk for mental health issues than is the rest of the Canadian population. "Mental health concerns impact Veterans in many areas, from quality of life, to relationships, to finances amongst others, yet it is common for Veterans to experience delays in accessing care," Hosseiny said. "Right now, we have amendments in front of us that, for two years, will address access to coverage for mental health treatments, as well as relieving financial risk and burden, which have all impacted Veterans. We have window of opportunity for those with a stake in how Veteran benefits are administered to have their voices heard, and to have a chance to weigh in on what the final regulations will be."
According to information released by VAC, if this regulatory change is approved, Veterans living in Canada who apply for a disability benefit for an eligible mental health condition – as well as those who have already applied – will automatically qualify for Mental Health Benefits. Accessing mental health treatment could reduce the likelihood of prolonging or worsening the Veteran's mental health condition. Starting on 1 April 2022, Veterans would have up to two years of treatment for conditions such as anxiety disorders, depressive disorders, and trauma-and-stressor-related disorders, which includes PTSD.
Brian McKenna, Strategic Advisor for Veterans with the CoE – PTSD, has met the announcement with cautious enthusiasm, noting that this is the result of Veterans advocating for years. "Anything that shortens the timeline for access to much-needed benefits is a win. This minimizes the risks associated with waiting before a Veteran can access coverage for treatment. However, to positively impact the Veteran mental health journey it will be important for these changes to be implemented in a way that reflects what Veterans and Family members have identified as critical issues."
McKenna acknowledged that for Veterans and Families who have had to pay out of pocket to access costly, much needed mental health care, this allows them to make choices about seeking treatment based on their health needs, rather than financial situation. He also highlighted that there are areas where clarification is needed, such as whether the amendments will allow additional therapies, if they include addiction treatment as part of the scope, and whether tele-health and digital health might be used to increase access.
"What I do know," McKenna said, "is that we've advocated for a very long time to get to this place, and this isn't the time to step back. It only makes sense to carry that on through implementation of the policy and roll out, so we can identify as soon as possible any improvements which can be made."
The Regulations Amending the Veterans Health Care Regulations can be found in the Canada Gazette, Part I.
Input on the amendments should be directed to cabinetbusinessunit-unitedinformationducabinet@veterans.gc.ca  until 30 January 2022 for consideration.
The Centre of Excellence on PTSD (CoE – PTSD) acknowledges the formal apology delivered by Minister of National Defence, Anita Anand, on December 13, 2021, as a positive step in the recognition of the harms suffered by individuals who have experienced sexual misconduct while serving in the Canadian Armed Forces (CAF).
Chief of the Defence Staff Gen. Wayne Eyre and Jody Thomas, Deputy Minister of National Defence also offered apologies, and within, acknowledged the impact of MSM on friends, Family members, and bystanders. This formal, public apology is a recognition and validation of the experience of thousands of CAF members (current and former, Federal Public Servants of the Department of National Defence (DND), and Staff of Non-Public Funds, some of whom may also be Veterans), and furthers DND and CAF's public commitment to change. This apology follows other commitments towards change, including the Heyder Beattie Class Action, changes to CAF and Veterans Affairs Canada (VAC) policies, and other ongoing efforts, including a Restorative Engagement program, and funds for expansion of the Sexual Misconduct Response Centre (SMRC)'s mandate and services offered.
It is the position of the CoE – PTSD that for its apology to be meaningful, DND and the CAF must continue to work toward sustained culture change and gender equality. This would involve taking account for the wrongdoings, acknowledging the legacy of marginalization and exclusion of women and 2SLGBTQ+ members, and taking full responsibility for creating and enabling the gendered and sexualized culture that permits military sexual misconduct, and expressing regret for what happened—and for what continues to happen.
Within the CAF, women remain at greater risk for sexual misconduct, but the experiences of men and gender-diverse people are increasingly coming to the fore. Indeed, the experiences of 2SLGBTQ+ and people of colour may be exacerbated by discrimination on those grounds. Individuals who are part of multiple equity-seeking groups may experience the cumulative stress of intersectional discrimination that puts them at increased risk of developing PTSD and other mental and physical health problems.
Military sexual misconduct can include sexual harassment, hazing rituals, sexual assault and/or discrimination on the grounds of sex, gender, gender identity, or sexual orientation. Individuals who endure these behaviours are at increased risk of depression, problematic substance use, PTSD and other mental health and physical health problems including reproductive health issues, and chronic pain. It may result in feelings of shame and self-blame, moral injury, and feelings of institutional betrayal, which may in turn affect a person's career and ability to serve their country. Indeed, the impacts of military sexual misconduct and military sexual trauma (MST: a term used to describe the psychological, physical and social impacts or "wounds" that people who experience or witness military sexual misconduct may feel) can be life-long and enduring.
We acknowledge that the DND and the CAF cannot do this work alone. This is why, starting in 2019, the CoE – PTSD joined a diverse group of people with lived experience, researchers, policy makers, clinicians, and government representatives who, together, form the Canadian Military Sexual Trauma Community of Practice (MST – CoP). The MST – CoP hosted an international three-part symposium to raise awareness about this critical issue and to advance the efforts of organizations and individuals supporting people impacted by MST, and produced a fact sheet on MST. The MST – COP can continue to bolster the ongoing efforts of the DND and the CAF through research undertaken by its members, information-sharing efforts, and commitment to expand public awareness.
The CoE – PTSD remains committed to working with people impacted by MST, the MST – CoP, and other network partners to support system-wide efforts that will enable much-needed lasting change.
We are interested in connecting with First Responders/ Public Safety Personnel, First Responder/ Public Safety Personnel Families, Service Providers and Researchers to learn about your knowledge and information needs as they pertain to PTSD and related mental health conditions.
This project is an extension of a Gap Analysis project that is currently underway related to Veterans and their Families that is also being conducted by VIRGO Planning and Evaluation Consultants Inc. We are preparing to share the findings from this analysis. The CoE has received funding from Medavie Foundation for this follow-up First Responder project. We are working closely on this work with the Canadian Institute for Public Safety Research and Treatment (CIPSRT), as part of our ongoing commitment to collaboration.
Purpose of Survey
The brief questionnaire is focused on learning about your knowledge/information needs. We will use your responses to inform the development of a suite of resources relevant to First Responders/ Public Safety Personnel (including Veteran RCMP) and their Families to increase awareness of Post Traumatic Stress (PTS), reduce stigma, support well- being and help-seeking and link to available, relevant resources. Responses will also be used to inform key partners and stakeholders across the PTS system who are working with/interested in First Responders/ Public Safety Personnel populations.
As a key stakeholder, you will be asked to share your knowledge/information needs about:
PTSD and related mental health conditions (including substance use conditions),
 Your preferred ways of having those needs met,
The ways in which you use, or would like to use knowledge/information
We understand that you may bring many perspectives (e.g., first responders / public safety personnel, first responders / public safety personnel Family member, service provider, person with lived/living experience of PTSD/related mental health conditions, etc.). We encourage you to speak from any of these perspectives when answering the questions that follow. If any of the questions are not applicable to you, please leave it blank.
Thank you for your contribution, and for helping us in our work to improve services and supports.