Services and Supports for People Affected by MST
The Canadian Military Sexual Trauma Community of Practice, McMaster University's Department of Psychiatry and Behavioural Neurosciences, and the Centre of Excellence on PTSD are hosting a three-part virtual symposium on Military Sexual Trauma.
This three part symposium, which began on June 3, 2021 and continues with live sessions on September 16 and 23, brings together researchers and policy leads from across universities, government departments and intermediary organizations, as well as individuals representing those with lived personal experience of MST.
Whether you are a researcher, clinician, policy-maker, frontline worker or someone who has experienced sexual harassment or sexual misconduct in the military, Military Sexual Trauma (MST) and its aftermath affects thousands of Canadians.
This event has ended. More information and resources are available below.
Content warning
This webinar may include content on difficult topics including suicide. The content may be hard to listen to and may bring up a range of emotions. We encourage you to care for your safety and well-being.
Services and Supports for People Affected by MST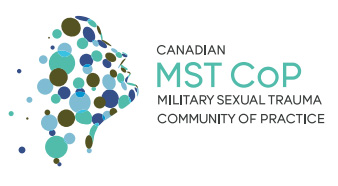 Thursday, September 16, 2021
Speakers & Presentations
Read more about the speakers and view or download their presentations from this webinar. Note: Not all speakers have downloadable presentations available.
Canadian Military Sexual Trauma Community of Practice – member organizations